Introduction
Eight years into the market, developing an extensive range of microphones for Live-sound, Studio recordings and other applications, Lewitt Audio has become a brand that can't be ignored when it comes to professional microphones.
Lewitt LCT 640 TS microphone is a large-diaphragm, solid-state capacitor microphone from the Lewitt Audio's LCT recording range. Basically, with an adjustable polar pattern and pre-attenuation and filtering options which we will dive into further, this microphone is an all-rounder.

Look, Feel & Ergonomics
The Lewitt Microphone
The Lewitt Audio LCT 640 TS doesn't house cheap materials and feels super sturdy! It holds apt weight making it not too light or heavy that would leave your boom arm in a fix. Corresponding white LED lights are given for all of the polar/HPF/pad buttons, that indicate which option is selected.
The LCT 640 Buttons
Another thoughtful part that Lewitt thought of while making this mic, is that the buttons don't create any electronic popping noises in the signal when switching between different pattern modes.
Lewitt LCT 640 Shock-mount
Lewitt's shock-mount is super solid. Essentially, the bungee is tightly woven in, making the mic stay in position once it's strapped in.
Lewitt LCT 640 Features
1. Dual Output Mode
The all-new LCT 640 TS microphone provides the possibility similar to that of RAW photography in which a photographer is able to change exposure and white balance even after the picture has been taken.
Lewitt LCT 640 TS microphone is similar to its younger counterpart/offspring Lewitt 640 except, the TS here stands for twin system. LCT 640 TS provides a signal separately from the front and the back of the capsule. In effect thiwhich helps in capturing the whole session instead of just recording an isolated source like conventional microphones.
Read: Important facts about polar patterns
2. Customized or one-click
Plugin your 3-pin XLR as you would do with any other mic and you get a large-diaphragm multi-pattern condenser mic. Comparatively, Plugin the included mini 3-pin XLR and experience all the possibilities of a true next-gen recording microphone.
3. Stereo functionality
Record stereo with only one LCT 640 TS. Then, just point the side of the microphone to the source! Lewitt 640 TS is a dual capsule microphone that enables us to record the front and rear capsule independently via their own separate outputs. Evidently this allows us to change the polar pattern changing the relative level and polarity of the two output signals.
4. Lewitt POLARIZER plug-in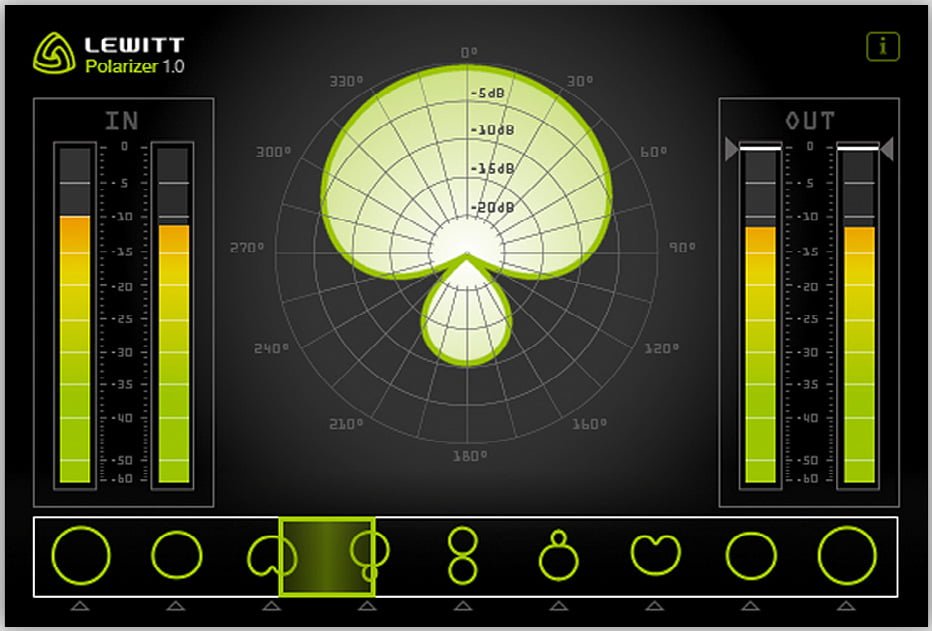 Lewitt has also created a plugin POLARIZER which is available for free download. And the Plugin lets you adjust the polar pattern after the recording has been done. Also, We can create unique effects by automating Polarizer. Moreover, this means that a music producer or engineer has the freedom of changing the polar pattern dynamically from five multiple polar patterns (Omni, wide cardioid, cardioid, super-cardioid, and figure of 8) during post-production. It lets you change or fine-tune the polar pattern during post-production, both on PC and Mac. The POLARIZER supports VST, AU, and AAX.
5. Low-Cut filters
Low-cut filters help you to eliminate low-frequency sounds to compensate for the proximity effect and reduce noise. We have a push button in the bottom left to change the Low-cut filter settings: linear, 40 Hz (12 dB/oct), 80 Hz (12 dB/oct), 160 Hz (6 dB/oct).
6. Pre-attenuation
Pre-Attenuation lets you avoid clipping when recording very loud sound sources. So Lewitt gives you 4 different attenuating options :0db , -6db , -12db , -18db.
7. LCT 640 Key Lock
We can hold the left push-button for more than 2 seconds to make all the 3 push buttons inactive. This allows all pushbuttons to stay locked until we press the left button for 2 seconds again. This lets you avoid any chance of change in settings while working.
You might be wondering how you select all these different settings even though the mic has no switches. What Lewitt uses is the backlit interface on the front of the mic which has three push-buttons/pads that are used to switch the Pre-Attenuation, polar-pattern, and low-cut filter. The selected value for each parameter is visible on the panel above their mentioned switches. At some point in time, if you overload the mic where it starts clipping the signal, the attenuator will switch automatically to the next highest value, and the previous manually selected attenuator setting will flash.
8. Status Indicator
If the input signal is very loud signal will clip. For that reason, the Status indicator will alert us by blinking red so we can adjust the pre-attenuation setting.
9. Clipping History
Clipping History makes sure that your microphone has not clipped during recording.
Holding the high-pass button for two seconds or more clears the clip history, though it is remembered even if the mic is unplugged before being cleared
10. Perfect Match Technology
Every single LCT 640 TS undergoes a series of measurements followed by adjustment of the polarization voltage to achieve exactly the same sensitivity at 1 kHz in every microphone.
LCT 640 User interface
1. Polar pattern indicator
Use the center pushbutton to select polar patterns: 
– Omni 
– Wide cardioid
– Cardioid
– Supercardioid
– Figure-8. 
2. Low-cut indicator
Use the Lewitt LCT 640 TS left pushbutton to get rid of unwanted low frequencies and structure-born noise.
3. Lewitt Status indicator
– Illuminated white: Multi-pattern mode(standard operation)
– Illuminated green: Dual Output Mode
– Flashing red: Clipping
– Not illuminated: Key-lock is active.
4. Pre-attenuation indicator
Use the right button to select the pre-attenuation. Essentially, to avoid clipping when recording very loud sound sources.
5. Pushbuttons Key-lock
Hold the left pushbutton for more than 2 seconds. By doing so, all pushbuttons are locked until you press the left button for 2 seconds again.
Creating different polar patterns manually with the Lewitt LCT 640 TS
Even though you can select a preset polar pattern (if your microphone is set to Multipattern Mode), you can also manually change patterns. 
– Record the front and back signals on two different channels. 
– Make sure to set the gain on both input channels on your preamp to the same value. 
– Set the levels if you invert the phase on one channel. 

Lewitt LCT 640 TS price: Ranges from INR 75,000 to INR 83,000