Our student success echoes in large in the audio industry. At I Love Music Academy, we motivate students to prove themselves by encouraging them to enter the industry and seek out work that will challenge them and enhance their learning.Our students intern in Professional Audio based companies as part of the Audio Engineering Program and enter the industry on their own merit.
Hemant Wadhwani – (Co-founder of Sirius) is a passionate  DJ & Producer. His enthusiasm for music started with Hip-Hop & Psy-Trance, gradually shifting towards the electronic underground / techno music scene. Graduating from I Love Music Academy in 2015. He started out as a resident – in a nightclub in Delhi. His strengths grew beyond DJ'ing into event programming, planning & execution with several years of experience in the Industry.
India's First Differently-Abled DJ and the world's second after Sir Paul Johnson, Varun Khullar is creating history with his determination. DJ Aamish, is now a resident DJ at Kitty Su, Delhi. He has performed at various other clubs and pubs like Tamasha and Music festivals like TimeOut 72, Goa and Greesham Utsav, organised by Delhi tourism.
Currently seen in Amazon Prime Video's reality show The Remix, where she's paired with Indian Idol winner Sreerama Chandra, Candice has played at the biggest festivals in India, like Sunburn, Supersonic, Enchanted Valley Carnival, etc. Candice has shared the stage with international heavyweights like Martin Garrix, Sean Paul, Dimitri Vegas & Like Mike and more.
Audio Engineering & Music Production Student
Nishit Singh is a renowned Dj producer who goes by the alias 'Cosmos'. His track, 'Love me like you do' by Ellie Goulding got featured in one of the esteemed dance music portals – Dancing Astronaut, and is now supported by various national and international blogs such as The Rolling Stone.
DJ & Audio Engineering/Music Production Students
Sub-Z is a collective of five DJs and producers from New Delhi who are fascinated by sounds from the heavier side of bass music. Consisting of Tanzen, Stain, Npstr, Sodhi and Miredo, the Sub-Z crew met as students of "I Love Music Academy" and since have been stirring up New Delhi's DIY scene. Their weekly show Sub-Z Sessions showcases the many shades of UK bass music, from grime and garage to dubstep and drum & bass and everything that lies in between.
Audio Engineering Student
A level headed Audio Engineer and passionate music Enthusiast; as North Indian Sales Manager, Ratul has manoeuvred his passion for music and love for technology to work with one of the leading Audio Equipment Distributors and Retailers in India- The Inventory. 
Audio Engineering & Music Production Student
Rtunjya has worked with Cotton Press Studio before joining MTV India as an intern. At MTV she discovered a passion for filmmaking and direction where she got a chance to work on several shoot based promos, and directed and made music for a few, eventually getting a job at Nickelodeon India as a promo producer.
Audio Engineering & Music Production student
Jay Pei is a New Delhi based Audio Engineer and DJ who has pioneered his own unique sound, enthralling audiences with it across the length of the country through most of 2018. Jay Panelia also makes music for short documentaries and movies.
TARUN MISHRA & PRAYAS MAKKAR
Switchers, a DJ duo comprised of Tarun Mishra and Prayas Makkar. They met at their Audio engineering course at "I Love Music Academy", from where they began their music journey together. They performed for the first time together as the opening act for Grammy-winning DJ/Producer Tiesto in Sunburn Arena, Bengaluru in 2015. 
DJ & Music production student
Guruman went on a track-making spree and stumbled upon a granular synths, which bagged him his first release with Qilla records. His second release, an EP  will be soon on Cut records, which is run by Stillhead. 
Born and bought up in Denmark, Arya moved to India in 2016. Her love for the art of DJ-ing lead her to "I Love Music Academy" in Delhi-NCR, from which point forward she was entertaining crowds to her style of Electronic Dance Music in the capital. Now back home in Denmark, Arya is continues to shake the floor to her own tunes.
Dj & Music Production student
After a successful course in Dj'ing and Music production at the "I Love Music Academy", william  performed at local gigs and as a  resident at local clubs. His drive to learn more lead him to Spain and further to Ibiza. He currently tours and performs in Spain as an Indian Speciality DJ.
Aprajita Singh is a Delhi based Dj with the moniker Secular Chai. She brings to you delicious tunes and re-sampled goodness soaked in good vibes that incite all kinds of savoury feelings.
She picked up a Djing course and started digging deep since the very beginning. She is the official Hip-Hop DJ of 3X3BL (Basketball league) and has played for several events like Grub Fest, The People, Locals, Queer Pride Parade ,The Prohibit and other underground music communities. Her unique take on music is a mix of French House with Disco and hip-hop to make a fun brew of sounds and give you the right vibe to go on with your evening.
Audio Engineering student
Audio Engineering Faculty at the Rennasance Music studio in Bangalore.
DJ & Audio Engineering student
a.k.a [raedl] With residencies at venues such as Molecule Air Bar, Yes Minister, Bandstand, and currently Auro Kitchen & Bar, and Summer House Cafe, 
DJ & Music Production Student
A versatile DJ – Turntablist from Hyderabad who has been staging shows across India. An open format DJ, his style comprises of the best Hip Hop, Trap, Moombahton and Electronic Bass music.
Audio Engineering student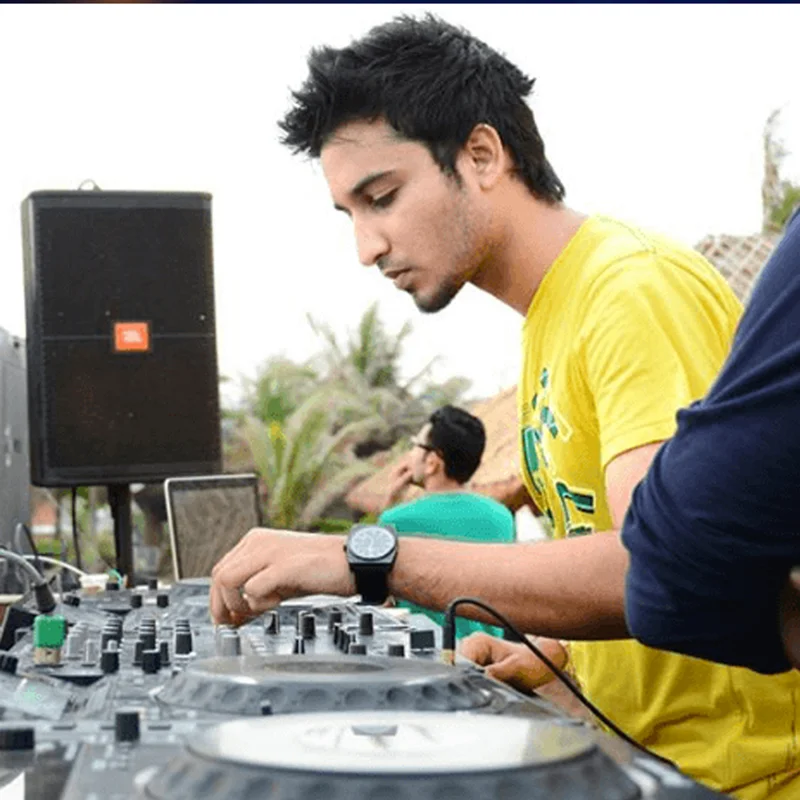 Audio Engineering Student
Arpit Gawri - 32 stitches
Audio Engineering student
From the world of Fashion to the embrace of music, this fashion stylist has taken on the moniker of "profanayty", Nayanika is moving the underground dance music scene in her own unique style. Bold and unapologetic Dark Techno seems to be her calling. No stopping this one!
DJ & Music production student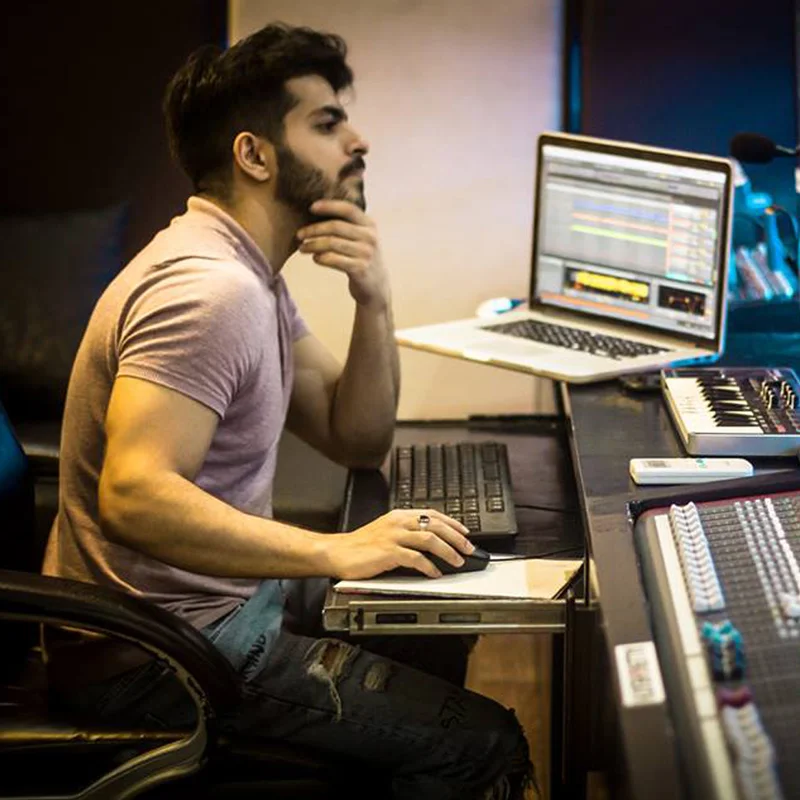 Audio Engineering Student
DJ-ing & Music Production Student
DJ-ing & Music Production Student
Well known as a DJ in the Delhi music circuit, Pankaj a.k.a DJ Punk is an enterprising music professional. From running his own DJ Gurukul to dabbling in professional Photography, Punkaj is a resourceful media entrepreneur who is always looking out for his peers.
DJ & Audio Engineering student
From his early days as a Drummer to discovering Psytrance and studying music at Pyramind post his time with us at the I Love music Academy; Aryaman is one amongst Delhi's 3 Ableton Certified Trainers. He runs his own Training Centre called "the Live Room" specialising in Ableton Live training for production and performance.
Audio Engineering Student
While flying for AirIndia as a Pilot, Anjum pursued his passion for music and underwent training in audio engineering. His first music release was a controversial self release on youtube that took the internet by storm. Currently working on the regional production and mixes, Anjum continues to drive his music passion working with a host of artists.